Stumpwork Watering Can Pincushion Kit Product Review (designed by The Bluebird Embroidery Company)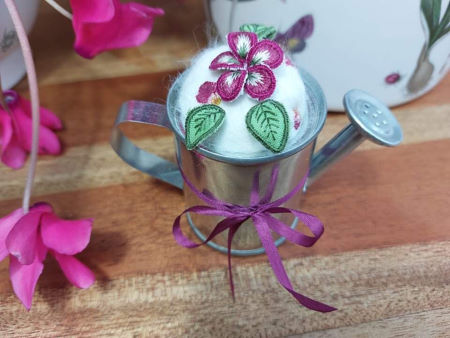 Hi welcome to another Poppy Patch Posse review by Anny Patches on Instagram @theneedlworkersbarn.
The kit I'm reviewing is the Watering  Can Pincushion kit by The Bluebird Embroidery Company. This is a stumpwork embroidery kit designed for beginners to stumpwork embroidery.
Everything you need to sew this project is included from needles and thread to fabric and stuffing not forgetting the cute little watering can and fabric paints.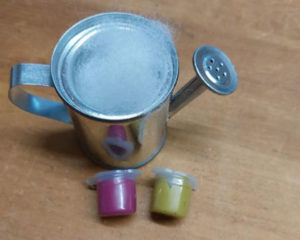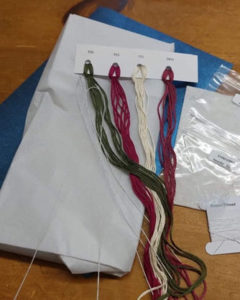 It has a beautiful booklet with easy to follow step by step instructions and full colour photographs.
Stumpwork is an embroidery technique which creates a 3D effect. In this project we are creating petals and leaves which sit on top of the finished pin cushion.
The first step is to create a base for the embroidery. Felt and calico and thread  are provided to make a circular base. This is then decorated  by using a stencil (all patterns are in the booklet ) and painting flower petals onto a felt base using the fabric paints include in the kit. I used a small paintbrush from my stash.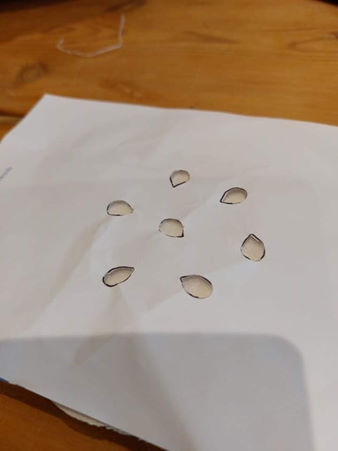 The next step is to make the leaves. Fine gauge wire is provided for this step.
Using the pattern trace the leaf shapes onto the green fabric and couch secure the wire using a couch stitch. I also secure my wire tails with masking tape to stop them catching on my embroidery thread.
Then sew a button hole stitch to cover the wire and fill in with a fly stitch to make the lead veins.
All full colour stitch instructions are given with the kit, so even if you are new to embroidery you can see clearly how to do this.
The technique is similar for the petals however they are filled in using long and short stitch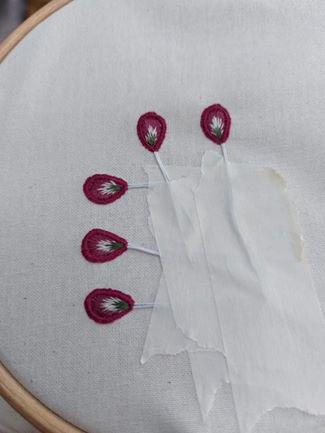 Once the leaves and petals are complete, cut them out very carefully using sharp fine pointed scissors, I use my Karen Kay Buckley embroidery scissors. Be careful to cut close to the embroidery avoiding snipping any threads.
Now to secure them to the felt base, using the large needle provided make a hole in the painted felt base and thread the wires through. Secure the wires on the underside calico  using small stitches once you have done this for all the leaves and petals then arrange them and curl them around a pencil to make them more life like.
Finish off and stuff the pincushion as per the pattern instructions and insert the finished pin cushion into the watering can…
Ta Da ! You now have a beautiful pin cushion and an exquisite piece of stump work embroidery 💖