Easter Dilly Bag Kit (designed by Molly and Mama) Product Review
This product review has kindly been written by Vicki, you can find Vicki on Instagram at #the beautifulstitch
Back to drawstring bags for me for my second project for the Poppy Patch Posse. I have long followed Lauren. – Molly and Mama, on Instagram and love her use of pastels and whimsical stitching. When I saw that Poppy Patch stocked some of her patterns and had made the Easter Dilly Drawstring bag into a kit my mind was made up on what I would make.
Poppy Patch have put together a delightful palette of fabrics, pink florals, pink checks and some lovely contrasting blue greens which are just my sort of colours.
When the kit arrived, it came with the fabrics, pattern and very comprehensive instructions. The original embroidery design around the middle of the bag features some sweet little bunnies, to work with the 'ears' around the top of the bag. Lauren had also used some gorgeous Tilda buttons in the centre of her flowers. I scoured the internet for these but it seems they are not readily available in the UK. That didn't worry me though as the pattern is very adaptable and I actually had a second Molly and Mama pattern that featured some beautiful, whimsical spring florals that I thought would work well.
I started by printing the embroidery pattern that I was going to use out at 60% size. I then traced this, repeating three times evenly spaced along the centre light pink fabric. Using a range of Auriful stranded cotton threads I embroidered the main panel. This was the most time consuming part of the pattern but I am never going to be complaining about having stitching time!
Once I had made up this panel and spent a fun evening in front of the television making Suffolk puffs I was ready to put the bag together.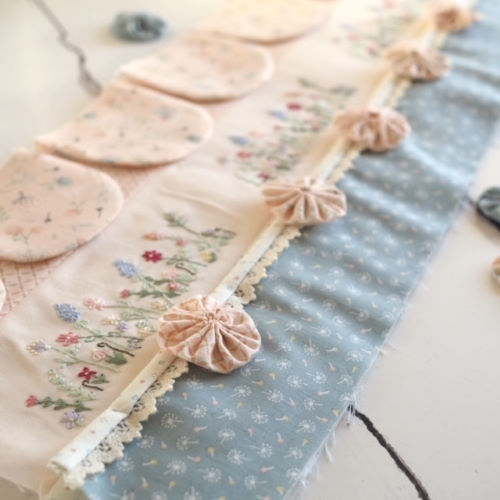 The construction of the bag is actually ingenious. The 'petals' around the top are made individually and then when stitched around the top gather with the drawstring to raise and lower. It was interesting to see how the process of putting the bag together made this work.
I haven't stitched much with foam interfacing (available separately from Poppy Patch) but it actually made a nice change from batting. It provides the soft, loftiness of batting with a little more structure. I also enjoy the convenience of foam interfacing being iron on, something I found very helpful as I was already stretching my sewing skills trying to sew a circle base into the tubular bag sides!
I am definitely not the person to come to for tips on stitching circles!!! All I can say is pins, more pins and some clover sewing clips too! I took the sewing of the lining base and outer base very slowly and with much laughter from my other half (anyone else poke their tongue out when they are REALLY concentrating?!) I ended up with a construction that I was actually pleased with – no tucks or pleats in my seams!
With outer bag and lining bag constructed separately I was then ready to put them together. Again, this came together easily and even being what I would call a confident beginner with sewing I didn't have any issues with this.
Following what was a very detailed and well written pattern I had no issues putting together my own Dilly bag, and I love the fact that it can be personalised with whatever embroidery you would like. Finally I will let you into one tiny secret…shhhh(!)…once I had completed my embroidery I realised I had spaced my three floral repeats not taking into
account that I would join the two ends together to make a tube! If I had taken the completed project photo from the other angle you would see a couple of hastily added secret flowers making my embroidery repeats not quite identical! But hey ho, that is just my inability in following instructions!