Rambling Stitcher Purse kit (designed by Hares Nest Stitchery) product review
This product review has been kindly written by Vicki, you can find Vicki on Instagram at #thebeautifulstitch
As the first of my product reviews for the Poppy Patch Posse I chose the Rambling Stitcher Purse Kit. Poppy Patch have a gorgeous selection of kits from Hare's Nest Stitchery but this one caught my eye as it was a sweet little zipped pouch – with the hard work of the zip already done! With zips and me not being friends this was ideal, you'll usually only find me making drawstring bags!
The other draw of this kit were the examples on the packaging, lots of pale scraps of precious fabrics layered onto the purse, overlaid with rambling stitches of Perle thread.
When the kit arrived it came with the two sides of the purse already joined with the zipper sewn in, some stamped fabrics, little scraps of lace, fabrics of different textures and threads of differing colours. The kit also contains a stencil set, to use to create varying stitches and designs on your purse – which have the added benefit of being reusable.
I started by placing my fabrics into a pleasing arrangement, figuring that I would create my base of scraps on the purse using applique and then stitch over them. I have a vast array of antique snippets of fabric, far too small to use on their own but perfect for this so I added in some of my favourites. Initially I came up with one base design but something was jarring and I couldn't quite work out what it was. I'd put in a scrap of a vintage floral cotton overlaid with a pink patch but it wasn't sitting well with the almost grey, faded blue zip.
Once I had swapped that out and focused on an entirely neutral palette I was happy!
I appliqued the fabric scraps onto the base fabric of the purse, overlaying them where I wanted. I used a mixture of needle turn applique and raw edge applique to give variety. Once the patches were in place I could start with my rambling stitches. One problem….my brain and rambling don't mesh well! I gravitate to structure and uniformity which is one of the reasons I was drawn to this kit. I wanted to explore the rambling, scrappiness but I still ended up veering more towards structured stitch sampler!! Sometimes you just have to go with things though and actually the beauty of this kit is the less prescriptive approach it uses to encourage you to explore and come up with a finished item that you are happy with.
I used a variety of stitches to decorate my purse. A very useful resource is the Royal School of Needlework's new online stitch bank. All the stitches are categorised into type and you can browse through the style of stitch you are looking for. A new favourite of mine might be herringbone ladder stitch – the laced stitch above the cross stitches on the right.
I also used the card templates supplied to place where I wanted other stitching. The templates were easy to use, just drawing around with a Frixion pen – so that any marks not covered up could be ironed away. (My templated are now neatly stored away as I can guarantee they will be put to good use again!)
When I had finished my slow stitching and patchwork I decided to put a lining in my purse – to stop things tangling with the threads on the inside. I can't imagine it is just me that trails threads on the back of their work!!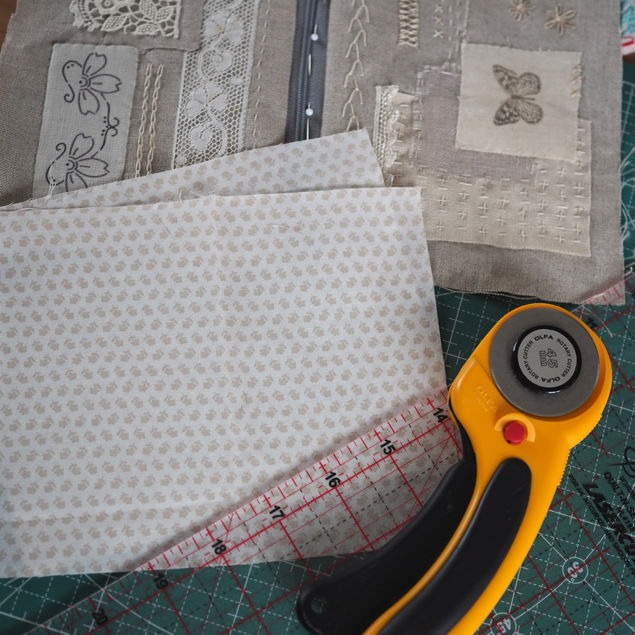 I used a neutral fabric and measuring the linen of each side of the purse I cut the lining and making sure I avoided the zip tacked it to the reverse. This was simple with a cutting mat, rotary cutter and grid ruler, all of which Poppy Patch stock.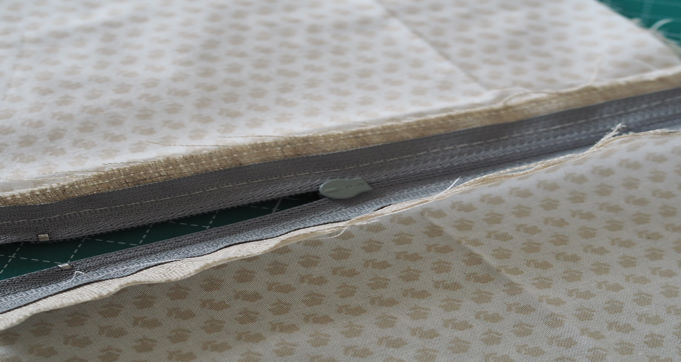 Lining up the outer edges, right sides together I then stitched the three sides to close the purse, having first made sure the zip was partially open to make it easier to turn right side out. Using pinking shears I clipped close to the seam around the outer edge stitching to stop the fabrics from fraying.
Turning my purse out the right way, giving it a gentle press on a soft, fluffy towel or you could use a wool mat so I didn't squash my stitches and I was all set to use it.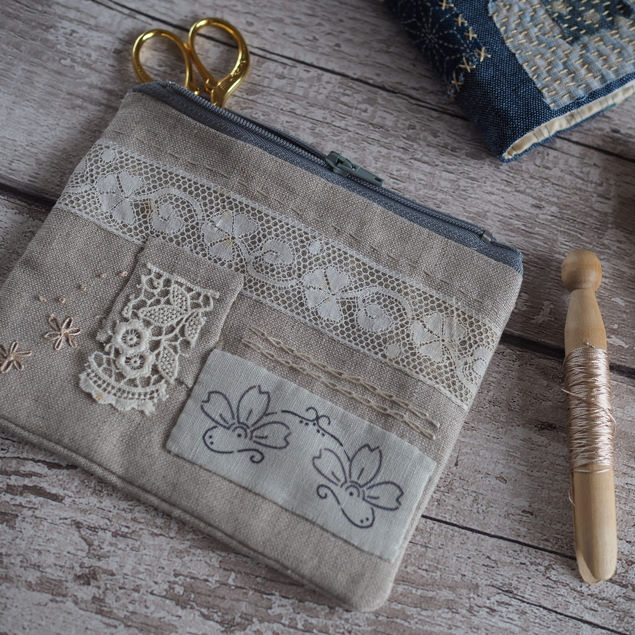 As you can see from the pictures my project went in a different direction from what I had first planned. But that is ok, the stitches are less rambling and more uniform but the absolute beauty of this kit is that while it has suggestions – good ones and one I've used in my finished purse – it also encourages you to go with whatever you want to do. There are lots of kits out there (a lot I have done too!) which are beautiful and allow you to follow the instructions to get the end result which will look like the picture on the front of the kit. This is different, it encourages you to explore, using the materials provided, adding your own favourite scraps in too, and guides you to make something which will probably end up more your own style. I couldn't recommend this enough as I now have a purse, which is going to be put to daily use, that is in my own aesthetic – and I can guarantee I will be doing more kits from Hare's Nest Stitchery.