At Home in the Garden Kit (Designed by Natalie Bird from The Birdhouse) Product Review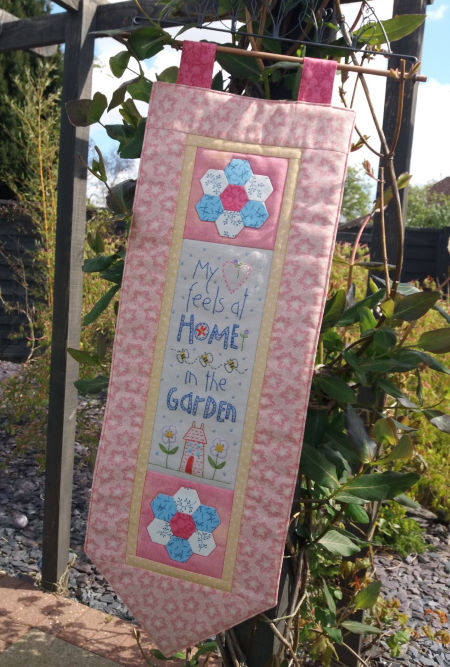 This review is completed by Nicola at www.nicolaforemanquilts.com of the Poppy Patch Posse.
A few weeks ago, another Poppy Patch Posse project arrived in the post from Poppy Patch. I'd chosen a sweet kit called At Home in the Garden, which is designed by the Australian designer Natalie Bird of The Birdhouse Patchwork Designs.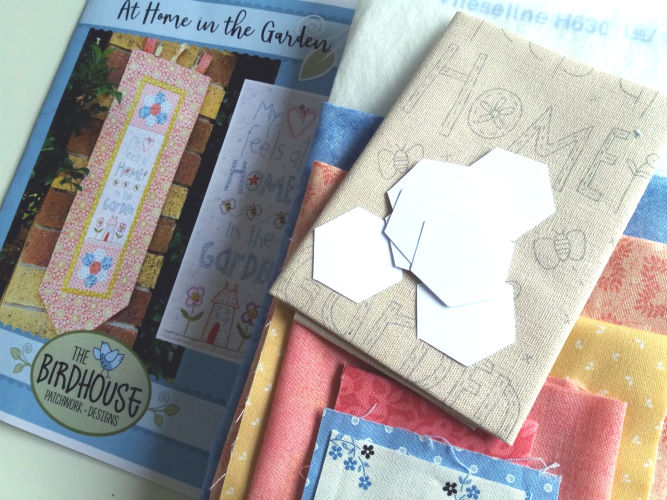 This small wall hanging is made with a combination of hand embroidery and English Paper Piecing. As well as a traceable stitchery design, the pattern also includes a pre-printed panel which I've hand embroidered with a selection of Cosmo embroidery threads.
Simple stitches are used, including back stitch, lazy daisy stitch, running stitch, satin stitch and a few French knots – although I've used colonial knots as I find them easier. Pre-cut 5/8″ hexie templates were included in the kit. Once these templates were covered with fabric they were stitched together using a fine thread – my favourite is Aurifil 80wt in a mid grey shade.
Two completed hexie flowers were hand appliqued onto a square of background fabric, again using Aurifil 80wt thread. These blocks were machine stitched to each end of the stitchery panel and both inner and outer borders were added.
Two fabric tabs were added to the top of the completed front. The front of the wall hanging was layered with a thin piece of fusible wadding. The backing fabric was added on top, right sides together, and was stitched all the way around, leaving a small gap for turning through to the right side. The opening was closed by hand (I prefer ladder stitch for this) then it was pressed ready for quilting. I chose a selection of threads from Aurifil Superior Threads and Mettler for machine quilting this sweet wall hanging, in colours to match the fabrics.
I machine quilted this very simply around the embroidered panel, around the hexie flowers, and between the inner and outer borders. Finally I edge stitched all around the outside of the wallhanging.
Obviously the perfect place for a photoshoot was in my garden! This really was a super project to make and as always the ladies at Poppy Patch have put together a lovely kit. If you'd like to make one of these too, kits and patterns are available on the Poppy Patch website.
Please click HERE to see the review on Nicola's website